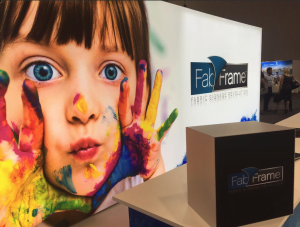 To keep up to date with FABframe, our new products, success stories, please read on...
FABnews April 2017
You'd Better Call Saul!
At Coleman Group we love a good promo.
We love it even more if we've been part of it!
To promote Season 3 of Better Call Saul, we were tasked to transform a store in Potts Point, Sydney into a Los Pollos Hermanos pop-up store.
With the promise of free food and the added attraction of show star Gus Fring, crowds were flocking to the store.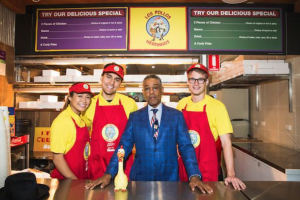 Using a combination of signage materials and techniques, the store was transformed for two days – then, after the promotion, all traces of Los Pollos Hermanos were removed and the store was restored to its former state and you'd never know we'd even been.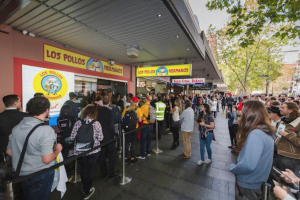 This is a great example of both the signage we can create and also what our Install team can do.
If you've got a great idea for an event, please call and see how we can make it pop.
FABnews March 2017
February was all about Gifts...
A new venue and a new look for Reed Gift Fair.
The first big event at a new venue is always exciting and a great test to see what can be done to make the space your own.
Reed Gift Fair pushed the boundaries this year and definitely made their presence known at ICC Sydney.
From registration desks to escalator branding, floor decals to retro fitted window signage, entrance structures to pole wraps, there was no mistaking that you were at a Reed event.
The venue delivers tons of opportunities for clever signage, and with the versatility of FABframe, we left no stone unturned.
FABnews February 2017
When a client wants flexibility, we give it to them!
The brief was that the client wanted FABwalls, but they needed to be able to be adjusted to different angles...So that's what they got.We built the FABwalls, added some hinges and feet, and they got exactly what they were after. Better still, they were delighted with the outcome!It seems that there are no challenges too great for FABframe.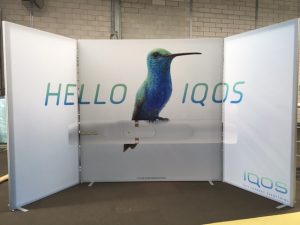 Covering the Cricket
Whether it's the Big Bash League or a One Day International, we have to make sure the sponsors are seen.And FABframe did just the job this season, with signage framing the scoreboard – the perfect place to make sure you're seen.

And the tennis!
This centre court scrolling signage at Ken Rosewall arena made sure the sponsors were seen from every angle, whether it was during play or at rest.At the Coopers Beer Garden at the Australian Open, the FABframe lightbox, suspended cube and LED sign all set the scene for a relaxing drink at the tennis.
Creating the backdrop for Rogue One: A Star Wars Story



When you're tasked with building the media wall for the World Premiere of a movie in the Star Wars franchise, it better be great because the whole world will be watching.
This media wall for the Rogue One premiere was 11m long x 2.4 m high – just long enough for all the celebs walking the red carpet, making sure that every step was the perfect photo opportunity.
FABnews January 2017
International Convention Centre Sydney is open for business
And FABframe is all over it!

We're delighted that the ICC has opened and the venue is fabulous!
With two major exhibitions opening on 20th December 2016, we're sure Sydney-siders are just as happy as we are to have a world class entertainment, convention and exhibition precinct right in the midst of our city.
FABframe is featured in the directional signage within the precinct, with specifically engineered structures designed to withstand weather. The frames are forklifted into place and are weighted to hold up in the wind. The FABrepel fabric is water resistant, so repels water and holds up in the rain.
As with all FABframe, the skins can be quickly and easily replaced to reflect the needs of the Centre.
Next time you're in Sydney, make sure you check out the precinct!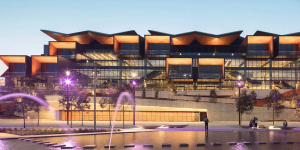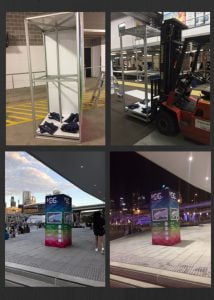 Hunger Games at ICC
It was great to be part of the first event at Sydney's International Convention Centre, with FABframe setting the mood and creating the scene for the Hunger Games exhibition.
We supplied directional signage, pillar and wall wraps, entry structures, media wall, huge, suspended graphics and even floor decals.
Rather than using window decals, we used double sided FABframe to sit within the dividers. This solution not only allowed a different image to be displayed on either side, but it also offers quick and easy installation and removal.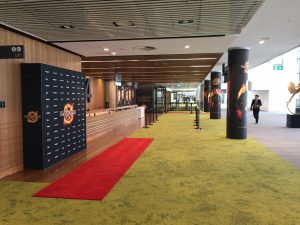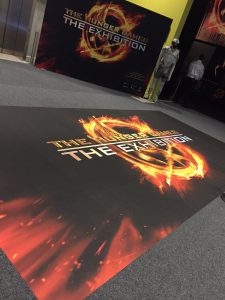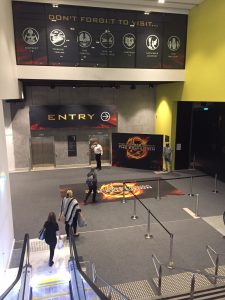 Brickman Wonders of the World Exhibition at ICC

Things have changed from the days when Lego was simple and signs were painted or hung. Today, Lego is used to re-create the Wonders of the World in incredible masterpieces and signage is printed, wrapped, hung, mounted and framed.
Brickman has it all at ICC and FABframe helped promote the event with directional signage and pillar wraps.
It's still on, so if you're a Lego fan and you're in Sydney, go check it out.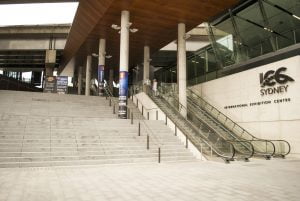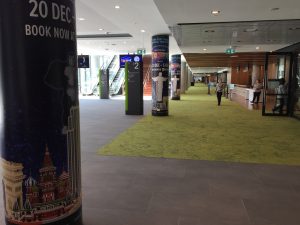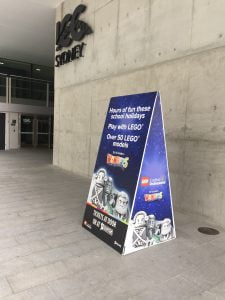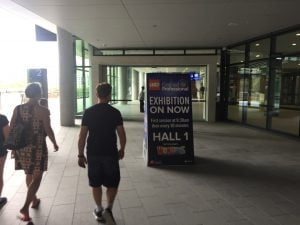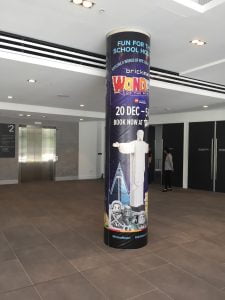 Coleman Group Announcement
We'd like to update you on some very exciting news at Coleman Group.
As of December 1st 2016, Glenn Coleman and Rod Peter have purchased Coleman Group Pty Ltd from Mitchell Communication Group.
We're very excited about what this means for the company as well as our customers, and you should be seeing some positive changes in the near future.
Glenn's role as MD will continue with a focus on strategy, capital expenditure on equipment, finance and future investments.
Rod's role will expand to become GM utilising his skills driving the company's system improvement, efficiencies, team integration with a renewed focus on driving Sales and new Business development.
Over coming months the business will benefit from an increase in capital expenditure, with major equipment upgrades to 'state of the art' printing technology delivering even better solutions to our clients.
Investment also to be made in a new industry specific software system providing improvement in estimating procedures and production flow, with the goal of delivering better outcomes more efficiently for our clients.
We're looking forward to making lots of positive changes over coming months to improve customer service, support, and continued enhancement of your signage requirements.
These are exciting times for us and we look forward to sharing these improvements with you as they develop.
Please stay tuned for more news.
We thank you for your continued business and welcome your feedback.
Glenn Coleman
Rod Peter