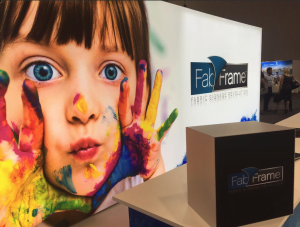 To keep up to date with FABframe, our new products, success stories, please read on...
FABnews - November 2013
It's nearly time for the EEAA Awards for Excellence for 2013 and, once again, FABframe is proud to be the Major Partner for the event.
Rod Peter from FABframe said, "It's an honour to be associated with this event that recognises excellence within our industry.  We love seeing people pushing the boundaries of what can be done, coming up with new, innovative and clever solutions to promote events."
FABframe is constantly pushing these same boundaries, using lightweight aluminium frames and fabric prints to create outstanding signage solutions.  It is incredibly versatile and really turning heads at trade shows, exhibitions and events all over the country.
"Our sponsorship of EEAA Awards for Excellence is a great way for us to show our support of innovation and excellence," said Rod.
Thirty five independent judges have cast their votes, so now all that's left to do is wait for the 16 category winners to be awarded at the Sydney Convention and Exhibition Centre (SCEC) gala dinner on Tuesday, 26 November 2013.
Good luck to all the finalists!
Mercedes Benz promotion at Crown Melbourne
FABframe lent itself beautifully at the Mercedes Benz promotion at Crown Melbourne.
FABframe freestanding walls with integrated LED screens added versatility and interest to the stand, creating the perfect backdrop for a beautiful vehicle.
Spring Carnival
The Spring Racing Carnival is a highlight of our year  and, once again, FABframe was all over Rosehill Gardens and the newly developed Randwick Racecourse.
FABframe was used for different signage elements at both venues including media walls for Fashion on the Fields as well as a Photo Wall.
The Photo Wall certainly proved popular amongst the racegoers!
Dressing up and creating interest
Our clients are always looking for something new: something that will grab attention, create interest and look fabulous.
The Drive Experience archway at the Nissan NDM at Etihad Stadium is a great example of this.  Using Single Sided FABframe attached to box trussing, the archway shows that FABframe can dress up just about anything!
New products
We've recently improved the Single Sided Knuckle and introduced the Halogen Arm Lights to our product range.
The Single Sided Knuckle allows you to put a ceiling in a cube and the new version is more durable and stronger.
The Halogen Arm Lights simply clip into the top of the Double Sided FABframe to provide a spotlight.
We're constantly improving and increasing our product range.  If there's something that you want, and not sure of the product you need, please give us a call and we'll see how we can help.
Staff Spotlight
For those who haven't met Sam Fraser, Sam is the head of our art department.
As recently appointed Creative Director, there's not much that Sam doesn't know or can't do when it comes to FABframe.
We'd like to thank Sam for his hard work and his ability to answer questions and solve problems for clients.  He's worked his way up from Graphic Designer, and due to his skill, work ethic and customer service focus, he's a real asset to the company.
Sam oversees nearly every job at FABframe, so everyone gets a piece of Sam these days.
Thanks Sam.  We all appreciate your hard work!
FABnews - September 2013
September has been all about AIMEX 2013, which is the key event for the mining industry.  And as you can imagine, with mining, everything is big and bold.
FABframe provided all the signage for event organiser, Reed Exhibitions, and also for many exhibitors.
Customer service, information point, archways, video screens and the entrance were feature areas from FABframe.
"We branded the entire show and the quality of the print was incredible with the colours a big stand out" said Liz Newman from FABframe.
Please take a look...
And a word from our client...
Coming up with new concepts and ideas is always a challenge, through the use of FABframe we have always been at the forefront of innovation when it comes to signage, at our recent Reed Mining Event AIMEX 2013 we displayed numerous signage which involved FABframe and it also highlighted how easy, flexible and innovative it can be to change the look of traditional exhibition signage.
Robert McIndoe, Operations Director, Reeds Exhibitions – Australia
And there's even a hidden FABframe door!
Staff Spotlight
We'd like to take a moment to thank Liz Newman for being an extraordinary  team member.
Liz joined us a couple of years ago, straight from college, and has worked her way up to become an Account Manager.
Liz's attention to detail, work ethic, product knowledge and customer service are unsurpassed.
Clients love her – she manages a job from start to finish, and makes sure every box is ticked along the way.
We'd like to thank Liz for all her hard work and dedication. Thanks! We really do appreciate it!
And a thank you to Liz from our client...
"AIMEX 2013 was the largest exhibition signage project for FABframe to date and Liz suggested, managed and ran this signage project from start to finish both in the office and onsite. Her tireless effort in the days leading up to the event as well as her detail to the delivery onsite made for an impressive display of her skills, people management and general pride in her work.
I can't thank Liz enough for assisting us and making AIMEX the success that it was."
Robert McIndoe, Operations Director, Reeds Exhibitions – Australia
FABnews August 2013
We have been flat out running all over the country for the past couple of months, so here's a quick snapshot of some of our fabulous FABframes that have been grabbing attention in stores and at events, and delighting our clients at the same time.
If you're looking for a signage solution that is smart, vibrant, environmentally friendly and can transform almost any space, FABframe is the signage for you.  Give us a call to find out more. We'd love to help!
Reed Gift Fair 2013
Held over 5 days, the Gift Fair showcased it's fair share of FABframe features areas and entrances.
We helped create two inviting scenes including Dinner with Gatsby and Lunch on the Grass, with many fellow contractors commenting during bump in that they could pull up a deck chair and sit there for the show!
FABframe creates the perfect backdrop
When it's all about launching or featuring a new product, the backdrop sets the scene to show off the product to its very best... and FABframe set a beautiful scene at the lauch of the new Lexus IS at Philip Island, Crown Casino and Rokeby studios.
Another great result and happy client!
Another great FABframe result and happy client. FABlac "was easy to get in and left no crinkles whatsoever".
A Project delivered by The Display Builders.
Impact and originality – that's FABframe
Stay tuned for photos FABframe discs that have been rolled out in concept stores for a major retailer.
Once again FABframe has been widely applauded for its impact and originality.
FABnews June 2013
FABframe™ is continuing to turn heads, attract attention and create the WOW factor everywhere we go.  Whether you want to brighten up a space, change the look or build an entire structure for an event, FABframe™ can do it all.
Our next FABframe™ Training Day will be in July – just confirming details now – so please let us know if you're interesting in learning more.
Please Like us on Facebook to keep up to date with new products and applications of FABframe™.
Standing out above the crowd
We made a 3m x 3m x 3m cube for DesignEx, with FABlit skins on 6 sides.  It was rigged by a point with a high bay light fitted inside the cube.
It was truly eye catching and a very clever way to attract attention.
"The stand looked great, thanks for all the hard work!" Peter (client)
Making tech look high tech
We were asked us to refresh an old stand using our FABframe™ lightboxes and we certainly fulfilled the brief!
We were able to custom-build the lightbox to suit the specific requirements in record time. This included chrome finish, custom builds and fixings and even managed installs over the long weekend!
Hair raising effects
FABframe™ made an appearance at the Hair Expo at Sydney Convention and Exhibition Centre on the June long weekend.
We featured at the entrance as well as many exhibitor stands inside the show.
Whether you need a small single sided sign; a huge, curved, suspended sign; a lightbox; a cube or an entire structure, FABframe™ can do it all.
It can be reused, repurposed, recycled.  It's environmentallly friendly and a great investment.
Show us your pics!
If you're out and about and see FABframe™ in situ, or you've recently used it, we would love to see your pictures.
We've just found a heap of photos on Instagram, so please feel free to share on Instagram, Facebook, Twitter, Pinterest or any other social media that you use.  Or send them to us, along with any feedback.
We love to see pictures and hear your comments!
Also, please Like Us on Facebook so that you can keep up to date with new profiles and applications.
FABnews May 2013
From the glitz and glamour of last month, FABframe™ has come back down to earth, travelling from coast to coast, appearing at events, exhibitions and retail outlets – making sure our client's stand out and get noticed.
We're also really excited about the impact we're making at exhibitions as well as enhancing the retail experience- see below for details...
Thanks to everyone who joined us for FABframe™ training over the past few months.  We hope you enjoyed it and learnt a lot.  We did!  If you couldn't make the training, but are still interested, please let us know and we'll put you on the list for our next Training Day scheduled for July.
Please call or email if we can help you with your signage needs!
From the team at FABframe™
PS  Please Like us on Facebook to keep up to date with new products and applications of FABframe™.
Attention grabbing at its best
Our client wanted something that drew attention, and that's exactly what they got with this entire structure made solely from FABframe™.  Using FABsheer fabric, the walls were see through, and with lightweight aluminium frames, the structure was strong and sturdy.
The client was thrilled, the stand created lots of interest.
Please call us if you'd like more details or want to do something fabulous for your next event or exhibition.
Big and clever!
This great structure really stood out from the crowd.  It is particularly clever because of its seamless curved corners. Front, back and sides are all fabric.  We used Blockout fabric to ensure a solid, bold finish.
We love what FABframe™ can do!
First impressions really do matter
National Manufacturing Week offered a unique opportunity for Australian manufacturers to showcase their innovative and internationally leading products. We worked together with Reed Exhibitions to develop three eye-catching entrance features, a media wall and a large amount of rigged banners and  directional signage.
Creating interest
We've really perfected our technique for installing LED TV screens into FABframe™ walls.  This TV is fully supported and flush to the FABframe™ structure with the fabric seamlessly surrounding it.
It's a great way to add interest and movement into your stand.
Head and shoulders above the competition
If people didn't notice this stand at Steadfast Conference, then they just weren't looking.
Our suspended FABframe™ really does grab attention and makes sure you're seen above all your competitors.
Showcasing
When something already looks great, you want the graphics to do it justice and really showcase its beauty.
At ATE, we met the brief and showed Australia off at its best.
With panels, media walls, entrance features and suspended signage, FABframe™ rose to the challenge and did us proud.
What's your brand experience?
We've been doing some really interesting work with international "brand experience" experts for a leading Australian retailer.  It's really made us think about the whole shopping experience and how we can help retailers convert walk-ins to buyers.  Stay tuned for more details... this is a work in progress and we're really learning some great stuff.